// Place this in the header scripts...preferably on the page level scripts.
Pest, Mold, and Bacteria Removal
Ultra-Low-Volume (ULV) Cold Fog
What is Ultra-Low-Volume (ULV) Cold Fog? A ULV sprayer generates fog droplets by using a high volume of air at low pressure. This solution disinfects duct work and tight spaces destroying insects or other organisms including bacteria and mold.
Goldmorr Fogging
Mold forms quickly and can get out of control. Ducts can have damp areas and excess humidity caused by a faulty air exchange system, etc. When mold spores are present in abnormally high volumes, they can present especially hazardous health risks to humans and pets. After prolonged exposure, you can experience allergic reactions or more serious health conditions.

*OUR GOLMORR MOLD REMEDIATION METHODS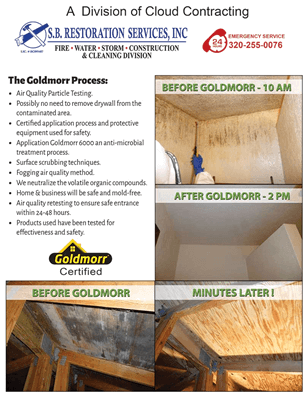 SB RESTORATION'S CLEANING PROMISE
Whether you need routine general cleaning or deep structural cleaning, you can count on our team of experts to get the job done right! In a catastrophic event such as a fire, our team is committed to saving your personal items and restoring as much as possible to original condition.
SB Restoration Services
One Call Does It All!
(320) 255-0076